Children's Ministry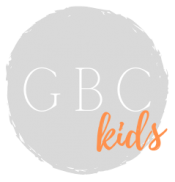 GBC Kids
Investing in discipling and caring for children is a major theme all throughout the Bible, both at family and congregational levels. We believe that family is the center of GBC Kids' spiritual, social, and character formation, but we are intentional in assisting both the kids and the parents in facilitating or enhancing growth. Thus, we provide a hospitable environment that mirrors the love that Christ has for all our children.
We offer
Nursery and Children's Church for children from birth through kindergarten during both Sunday School and Worship Service; 

Children Sunday School for 1st - 5th graders every Sunday from 9:45 to 10:45;

AWANA for children ages 3 through 5th grade on Wednesdays.
We strive to facilitate
Safety:

Safe check-in/check-out system.

All our teachers and helpers have passed a thorough child-protection class.

All our teachers and helpers 18 and older have passed a background check. 

Discipleship – our balanced teacher-child ratio allows us to invest generous time in every child, while several of our supervisors have extensive experience or professional training in children education. 

Teaching – we use a variety of curricula that allow our children to gain a multi-faceted approach to the Bible and a holistic understanding of God and salvation. 

Worship – we believe in teaching children to worship our Savior through singing, Bible reading/memory, and prayer. 

Social Development – every branch of our children ministry is designed to develop social skills in our children. Small group discussions and interactive lessons allow them to learn expressing their thoughts in public. Game times allow them to interact with others in fun and cooperative ways. Group prayer and singing times teach our kids the importance of worshiping together as a church community.